This recipe got the Runners-up at the Delmonte Blogger Recipe Carnival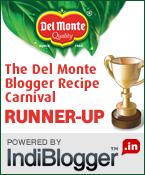 "Rollatini" or Involtini (meaning little rolls) is an Italian style dish made with thin slices

of

meat

or

eggplant

rolled around a filling, usually

ham or cheese,

then rolled up and baked.

Seriously, it tastes just as good as it sounds.
For all those, who are always looking out for variations to cook the boring old chicken, this is a real surprise packet, easy to prepare, looks elegant and bursting with flavors. Also, s
ince it's baked and not fried the calories are greatly reduced.
What else can one ask for?
The aromas of the chicken baking filled the whole house making the wait very difficult.
I served it hot, alongside a tomato and capsicum penne pasta and topped with Marinara sauce - a perfect combination for a delicious meal.
This for me, sums up as a perfect dish not just to serve to your family, but also classy enough to be the star of your dinner party - where it can be served both as a starter and the main dish.
Ingredients
4 chicken breasts halved
For the filling:
1/4 cup mozzarella cheese
2 tsp cheese spread
1/2 cup grated cottage cheese
1 tsp grated ginger
2 Tbsp chopped chives
1/4 Tbsp chopped walnuts
1/2 tsp dried thyme
1 tsp Capisco sauce
1 tsp Delmonte mustard sauce
salt and pepper to taste
Spray Lite butter spray
For the coating:
1 egg, beaten
1/2 cup dry seasoned breadcrumbs
To serve with
1 cup marinara sauce (optional)
Method
Preheat oven to 220C.
Cut the chicken breasts in half length wise.(If you have a few scrappy ones, just join them together and use). Pat dry with a paper towel.
Cover chicken with plastic wrap and pound out the chicken with a meat mallet. Season with salt and pepper to taste.
In a bowl combine all the ingredients of the filling together.
Lay the chicken down on a work surface and spread 2 tbsp of the filling on each fillet.
Roll the chicken starting with the thinnest side first, keeping the seam side down.
Carefully dip the chicken in egg mixture, then in breadcrumbs till nicely coated.
Place seam side down in a baking dish (no toothpicks needed). Repeat with the remaining chicken, placing each chicken roll next to one another.
When finished, lightly spray the tops of the chicken with a Spray Lite butter cooking spray.
If any of you in India are wondering where to get the cooking spray from, I ordered mine from the net.
Spray lite have introduced five amazing flavours - oliveoil, butter, American, Cheddar and natural and the best part is that they deliver anywhere in India. Here's a link to the site where you can order these cooking sprays
http://www.spray-lite.in/spray-lite_landingpg.php
Bake for 25 minutes in a hot oven at 220C till the chicken is cooked through.
Here, I wanted to try out the chicken both ways - one with the breadcrumbs and the other just plain without the crumbs - to see which one tasted better. For me, the chicken coated with the crumbs won hands down as the crumbs made it taste nice and crispy.